It's no surprise that Halloween is looking very different this year and I don't know about you but I want to make it FANG-tastic at home this year (I went there, sorry). The kids have missed out on so much this year and have done such a sterling job at handling everything, from lockdown birthdays to cancelled holidays – which only makes us want to give them a Halloween to remember. Take a look at these stay-at-home ideas for a fun and memorable Hallow-at-home:
Witch Hunt
Let them do their annual Halloweening at home this year. Send them on a treat hunt around the house and garden, hiding sweets and party-bag fillers such as these Glow in the Dark Rubber Ducks. Hide spooky notes in the obvious places with 'Trick' written on to keep them on their toes.
Which Craft?
Crafting is a winner for every season but choosing what to do can become a chore. It does, however, suit most age groups and allows everyone to get involved and have some creative fun. These ceramic tealights will make a great addition to any Halloween display and keep the children entertained as well. Choose from pumpkins, Frankenstein's monster or witches hats – there's one for every family member! I love activities like these as they can be reused every year and become a great family memory.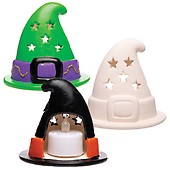 Another great crafting idea is to make Halloween wreaths. You can order wreath kits like these from Baker Ross, or make your own from sticks, leaves, acorns and any craft materials you have lying around.
Please subscribe to my YouTube Channel for free videos and tutorials for English and maths.
This post contains affiliate links- please use them for any purchases you want to make it as it really helps me out and allows me to continue making content for free!